When it comes to unblocking drains, sewers, soakaways, septic tanks, cesspits, drainage systems and even cleaning graffiti, high-pressure water jetting is the ideal solution.
What is High Pressure Drain Jetting?
High-pressure water jetting is a technique of cleaning and unblocking drains, sewer lines and other surfaces. As the name suggests, it involves the use of high-pressure water in order to clean clogged drains properly removing blockages and deposits that might exist in drains, pipes and on surfaces.
5 Uses of High-Pressure Water Jetting
Gully cleaning and aco drainage cleaning
Drain jetting and sewer jetting including grease trap and interceptor cleaning
Tank cleaning including; septic tanks, cesspits and oil tanks
Graffiti removal
Spillage clearance
How Does Drain Jetting Work?
Drain jetting is a high-pressure cleaning method for blocked drains and sewer pipes. It works by pumping water (which is stored in tanks) through a high-pressure hose fitted with a jetting nozzle.
This process forces powerful streams of water into the pipeline, allowing drainage engineers to target blockages and dislodge them.
Drain jetting is most useful when removing larger, stubborn blockages from pipes. Jetting hoses can negotiate tight bends in pipes, so are great for tackling blockages that would be difficult to reach by other means such as drain rods or DIY clearing kits.
The Equipment:
Kroll Combination and Recycler Units
Our powerful equipment includes our efficient Kroll recycling and combinations units which will save you time and money by filtering reclaimed water and delivering up to 4000 psi from powerful twin jetting pumps. This reduces the need to constantly refill the vehicle with water. These vehicles are ideal for drain jetting, sewer jetting, aco drainage and gully cleaning.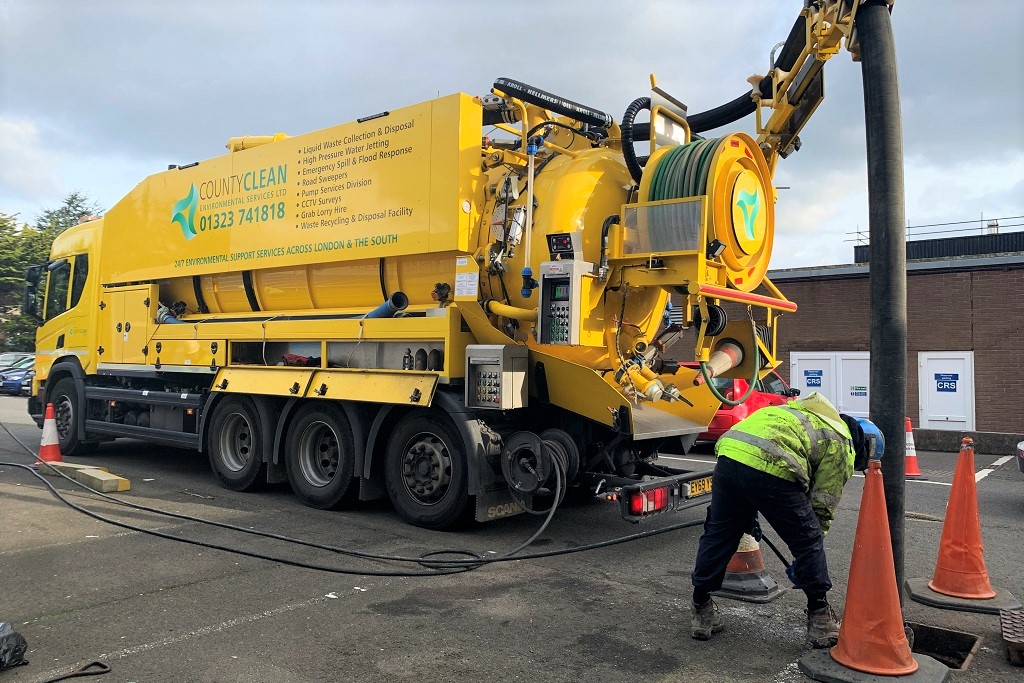 Portareels
With our portareels we can offer our customers high pressure jetting services in rough terrain and remote locations up to 500m from our Kroll Recycling unit's location. Ideal for culvert cleaning.
Rioned Urban Combi Units
With this unit, we are able to assist with the emptying and cleaning of grease traps, gullies and aco drainage. The vehicle has the ability to access areas that have traditionally been difficult to negotiate with standard tankers.
These areas include underground car parks, narrow city streets and rural areas with difficult terrain. The Urban Combi's two powerful pumps (one a high pressure jetting pump and a vacuum pump) make light work of removing the most stubborn blockages and hard deposits.
Van Pack Jetting Units
You may have a smaller project that can be more easily managed with our mini drain jetting service, including a handheld jetting lance for surface cleaning. Our van pack drain jetting units are highly mobile and can respond quickly with the latest equipment to restore the flow to your drain, saving you time and money.
How Effective is Drain Jetting for Unblocking?
High-pressure water jetting is extremely effective for cleaning out blocked drains and sewers with regular jetting to prevent further blockages. Our jetting services are versatile, with powerful water pressure to clear commercial and domestic sewer lines.
Want to find out more?
We are open 24/7, if you would like to find out more information on our high-pressure water jetting services then please get in touch with us via our contact form or by calling 01323 741818 or 0800 171 2204.