We use the latest CCTV drain survey equipment and our qualified operatives to identify any issues with drainage across London and the South.
Flooding caused by blocked or collapsed drains can have an adverse effect on business operations and domestic homes. In addition, there could be significant costs for repairs and remediation.
Call us on 01323 741818 or 0800 171 2204 to speak to our friendly team for recommendations and advice or to book in this service.
How Does a CCTV Drainage Survey Work?
We can carry out a pre-purchase property inspection if it is required. Our CCTV drain or sewer camera survey is quick and accurate, customers will get an instant and detailed look at the condition of your underground drainage.
Using the latest remote-controlled MiniCam crawlers with WinCan software specifically designed for CCTV drain surveys, we will quickly identify the condition and structural integrity of the drainage system without the need for unnecessary excavation and expense. Our operators are trained and accredited for Pipe Sewer Classification (OS19X).
Our specialist CCTV drain cameras send video capture to our mobile van unit, where our technician can assess the condition of your drain without any disruption to your property. Getting to the root of the problem quickly is a top priority for our customers who believe they may have a collapsed drain or a blockage.
Our camera crawlers have a range of 300 metres and can survey drain pipes with a diameter ranging from 100mm to 1500mm. The quality of the camera lens provides for a longer focal length so that you can see more detail.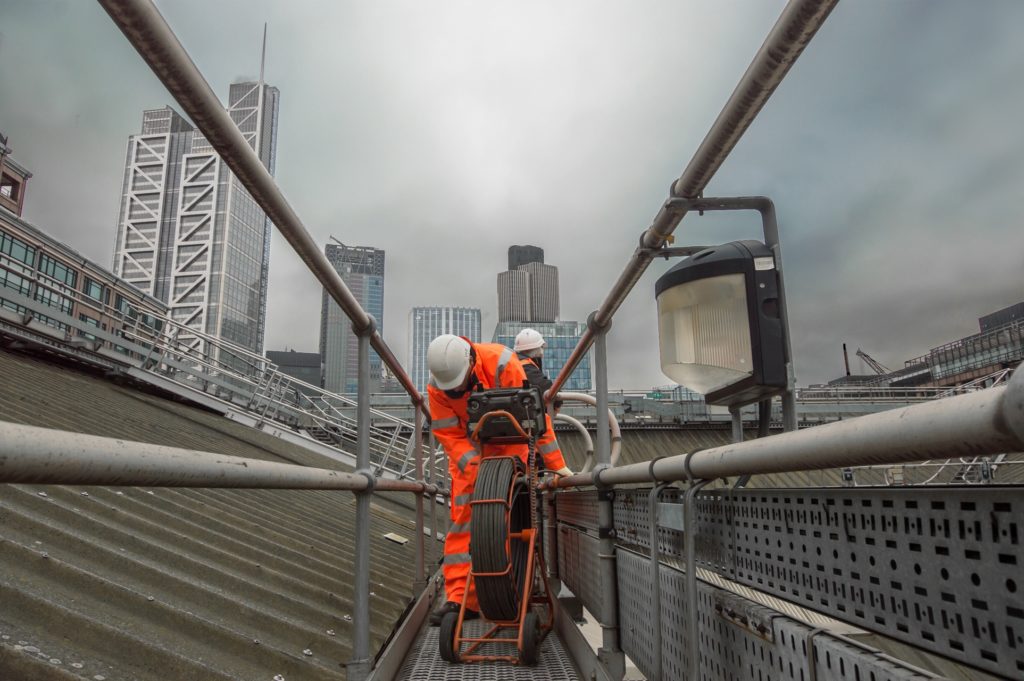 What Happens After Your CCTV Drain Camera Survey?
We have a fleet of specialist vehicles including our Kroll recycler and combination units, van pack jetting equipment, portareels and vacuum tankers to provide a full liquid waste disposal and drain cleaning solution. We can also provide civil engineering teams to carry out repairs if needed.
This provides peace of mind for our customers, ensuring that they receive the same quality of service from finding a problem right through to resolution.
What Are the Advantages of CCTV Drain Surveys?
CCTV drain inspections are the fastest and most cost-effective way of inspecting drains and sewers. Current and potential problems causing blocked drains such as; debris, tree roots, collapses and fatty deposits can be identified immediately. You will also be able to see any issues caused by cracks, fractures and scaling as well as the condition of the joints. Please see our article to find out more about what causes blocked sewers and drains.
Fighting Fatbergs
Our CCTV sewer survey identified for Thames Water pin-pointed the exact location of the infamous fatberg in Kingston-Upon-Thames footage and went global across news networks.
Survey Quality Assurance
Making the best use of our CCTV drain survey systems and software to carry out work quickly and efficiently, our drainage specialists will deliver a high quality, detailed digital video report, showing you the precise condition of your drainage system.
Our accreditations include ISO 9001, ISO 14001 and OHSAS 18001 and are licensed by the Environment Agency.
Call on 0800 171 2204 or 01323 741818 to talk to one of our experienced team members who can provide support and further information about our services.